Latest Posts
Recent Posts
Comply with FSMA & Reduce Hair Complaints
Posted by Thursday 10 November 2016
For more information or to request your free sample Contact us here:
Email: info@aburnet.co.uk
Tel: 00 44 (0)115 944 5909

This guide will help you select HACCP International certified products and reduce hair complaints by up to 80% all following new FSMA guidelines. This step by step guide will allow you too:
Select HACCP International certified products
Access Free training tools
Provide you with online auditing tools to demonstrate compliance


Who needs to comply with the FSMA Statute?
All food processors

All importers

All Pet food processors
When:
Human - now

Animal – Sept 16
Delayed Exceptions:
Very small businesses (<$1M) – Sept 18
Businesses fewer than 500 FTE employees – Sept 17
Key Requirements
A Preventative Controls Qualified Individual (PCQI) must create or oversee the development of a facilities Food Safety Plan
The plan must include a comprehensive Hazard Analysis Risk Based Preventative Control
Each facility must approve their raw material supplier when the receiving facility has identified a hazard requiring a preventative control. Hair contamination in supplies is a reasonably foreseeable risk to food safety
Third party accreditation / certification is required
Transportation of ingredients into facility are covered. If reliance is placed on a supplier for food safety, evidence is needed to demonstrate compliance
A written defence plan against intentional adulteration
The owner / site head must sign off the plan
Hair Contamination:
Hair and plastic are the two most common forms of food contamination.
Hair Contamination is a pre-requisite requirement, not a critical control point, using risk based preventative controls.
Consumers often feel sick when finding hair in food. It is common to stop eating and not re-purchase items again. Individuals will typically tell at least seven other people with increasing damage to a brand from negative press on social media and online.
This is why retailers and supermarkets take hair complaints seriously and demand compliance from suppliers. Most food safe programs such as SQF (Safe Quality Food), BRC (British Retail Consortium) and FSSC 22000 require effective hair containment.
FSMA Hair Containment Statute

Hair Covers
Title 21 - Current Food Manufacture GMP, hazard risk based preventative control FMSA 21 CFR 117
Section 117.10 – 6 – personnel
"wearing, where appropriate, in an effective manner, hair nets, headbands, caps, beard covers and other effective hair restraints"
Preventing cross contamination –e.g. Staphylococcus Aureus
Section 117.10 – 9 –
"… taking any other necessary precautions to protect against allergen cross-contact and against contamination of food ….including perspiration, hair, cosmetics etc
Hair Contamination Risk Facts:
According to Professor Barry Stevens, FTTS, President of the Trichological Society 2014-16 – "If we accept that hair-shaft shedding is a constant occurrence it is possible that 13-43 hairs could be shed from the scalp of each employee during an 8 hour period. This equates to 1,300-4,300 hairs per 100 people. These figures can be significantly augmented by thermal injury and severance (following exposure to excessive heat from hairdryers, curling tongs etc) and chemical insult e.g. bleaching, colouring, permanent waving, chemical relaxing or chemical straightening. The figures will be further increased by the daily losses of beard, nasal and ear hairs, eyebrows and eyelashes".
Hair grows in an upward spiral configuration and different angles across the scalp
Hair itself is unlikely to be a microbial risk. However, hand contact with the scalp is more likely to be a potential cross vector of pathogens such as staphylococcus aureus commonly found on the scalp of people with good personal hygiene.Therefore a complete head hair covering is recommended.
What is Effective Hair Restraint?
Independent research by the University of Bolton, England found that:
Hair is pushed up through the needle holes in all standard woven, knitted and especially non-woven fabrics which have holes caused by the random spinning of the fibres. Bouffant/mob caps and Beard Restraints are made from non-woven materials which do NOT retain hair.
On average 84 hairs protruded though a non-woven bouffant/mob cap per person per wear– Source University of Bolton, England.
To contain hair, hair must be held flat with as many contact points as possible. Therefore a light recoiling fabric structure with anti-slip and a positive attraction to the keratin protein of hair is required.
HACCP International Certified Products
HACCP International – the food safe product certification body, tested a selection of products used in industry and certified the following products:
Certified Products:
HairTite HiCare HygieNet
KleenCap-Max with HairBarrier, StayCool and anti-Microbial technologies
Tek-Chef Crown Cap with HairBarrier, StayCool and optional anti-Microbial technologies
Beard Shield with HairBarrier, StayCool and anti-Microbial technologies
Neck Shield with HairBarrier, StayCool and anti-Microbial technologies
Arm Shield with HairBarrier, StayCool and anti-Microbial technologies
Certified as an Aid to Hair Containment:
HairTite Bun Nets
HairTite Hair Ties
HairTite head Bands
PowerHold Hair net
HairTite Hygienes
Non-Certified Products:
Non-Woven bouffant cap
HoneyComb Heavy Duty Hair net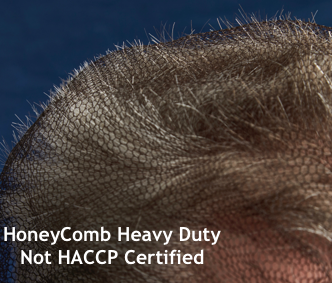 Simple & Effective Training
How do I get my staff to wear products in an effective Manner?
Download these free guides for staff:
How to wear guides
Best practice – Contain all Hair / Buddy Up / Use Clean Each Time
Get employees to sign the GMP pre-requisite best practice agreement in their employment contract.
On-line audit tool with instant graphical reporting – know where and who needs to get in line – www.aburnet.co.uk/free-tools/
For the full University of Bolton Research download the whitepaper here


For more information on the only HACCP International Certified products, training and auditing tools, or for a free sample contact below. You can also find us at the Food Safety Consortium on the 7th & 8th of December.